Stay warm safely this winter
You might be thinking about making a few changes at home to bring down the price of your energy bills and adapt to the cost of living. It's important that you do this safely.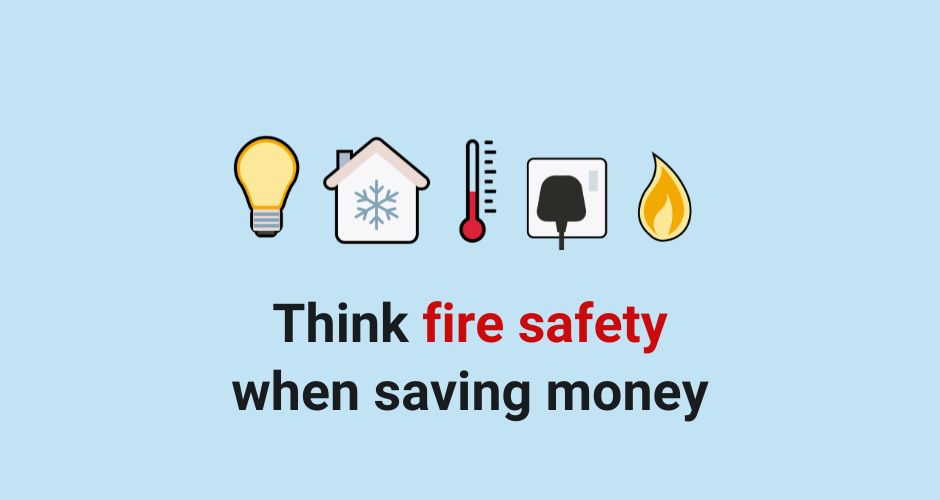 Early detection can save lives
One important thing to do is to fit a working smoke alarm on every level of your property so you're alerted quickly in the event of a fire. Read our smoke alarm advice.
Burning any fuel means there is a risk of carbon monoxide poisoning.
We recommend you have a carbon monoxide alarm in any room where fuel is burnt.
You should have an alarm in every room containing:
boilers
cookers
ovens
open fires
wood burners.
Choose safe heating methods
If you're able to switch off certain radiators in some rooms this could save you money. You could also keep doors shut to retain heat.
You may want to use a portable heater but bear in mind this may be just as costly as using central heating. There are a few general safety rules that apply to all portable heaters, but there are also some types that are safer than others. If you're looking to use an existing heater or buy a new one, read our blog to find out which type of heater is the safest.
Buy heaters brand new from a trustworthy retailer. We recommend an oil-filled radiator rather than anything with a visible heating element. Choose a heater with a trip switch (this means it will switch off if knocked over).
Whatever type of heater you have, always place it on a flat surface, at least one metre (3.3 feet) away from anything flammable.
Register the heater when you purchase it, so you'll be made aware of any product recalls.
You should never:
use any heaters that are faulty, or have broken or damaged wiring
use your heater to dry your washing
cover your heater.
Never use BBQs, camping stoves or patio heaters for heat indoors. These are designed for use outdoors in well-ventilated areas. They pose a fire risk and a risk of carbon monoxide poisoning.
Getting your chimney swept (by a professional chimney sweep) is the most important thing to do before you start using your fire. Dirty chimneys can lead to chimney fires, which will cost you a lot more money than the cost of a sweep. 
It's also important to make sure you're burning the correct fuel. Some types of wood can be highly toxic when burned, so you can't just burn anything. You must burn seasoned (specially dried) wood, smokeless fuels or coal.
Read more about chimney safety and find out how often you should be sweeping your chimney.
Be wary of electrical/chargeable ways of heating yourself, such as heated throws, jackets and gloves, that use electricity to build heat. Anything that heats up needs a lot of electricity and could be a fire risk. Follow our electrical safety advice about charging devices.
You may also consider using electric blankets or wheat bags to stay warm, both of these need to be used carefully.
Heat wheat bags according to the manufacturer's instructions.
Never use wheat bags as bed warmers because when insulated by bedding they can continue to heat, which could result in a fire.
Follow our electric blanket safety advice.
Emollients and staying warm safely
If you or a loved one uses emollients (special skin moisturising treatments used to treat various skin conditions), you should be aware that they make clothing and bedding extremely flammable. Make sure anyone using emollients sits a safe distance away from fires or heaters, and also take extra care when cooking or using candles. Read more about emollients.
 
Use candles safely or avoid using them altogether
Take extreme care with candles. They should only be used when you are in the same room.
Always place them in a heat-proof holder, and keep them well away from shelves, curtains, furnishings and books.
The safest way to use candles is to buy battery-powered versions. Most importantly they have almost no fire risk at all, plus they'll last longer and are better for the environment because you can replace the battery (recycle or recharge it) and continue to reuse the candle.
Safe storage of fuel
If you need to store petrol or diesel, you must take care. These substances are extremely flammable, and if they are not stored correctly, could start a fire.
Read more about safer storage of fuel.
Worried about costs or paying your heating bills?