Become an on-call firefighter
Ready to take on the challenge? We can't wait to have you in our crew.
But first, you'll want to know what's involved.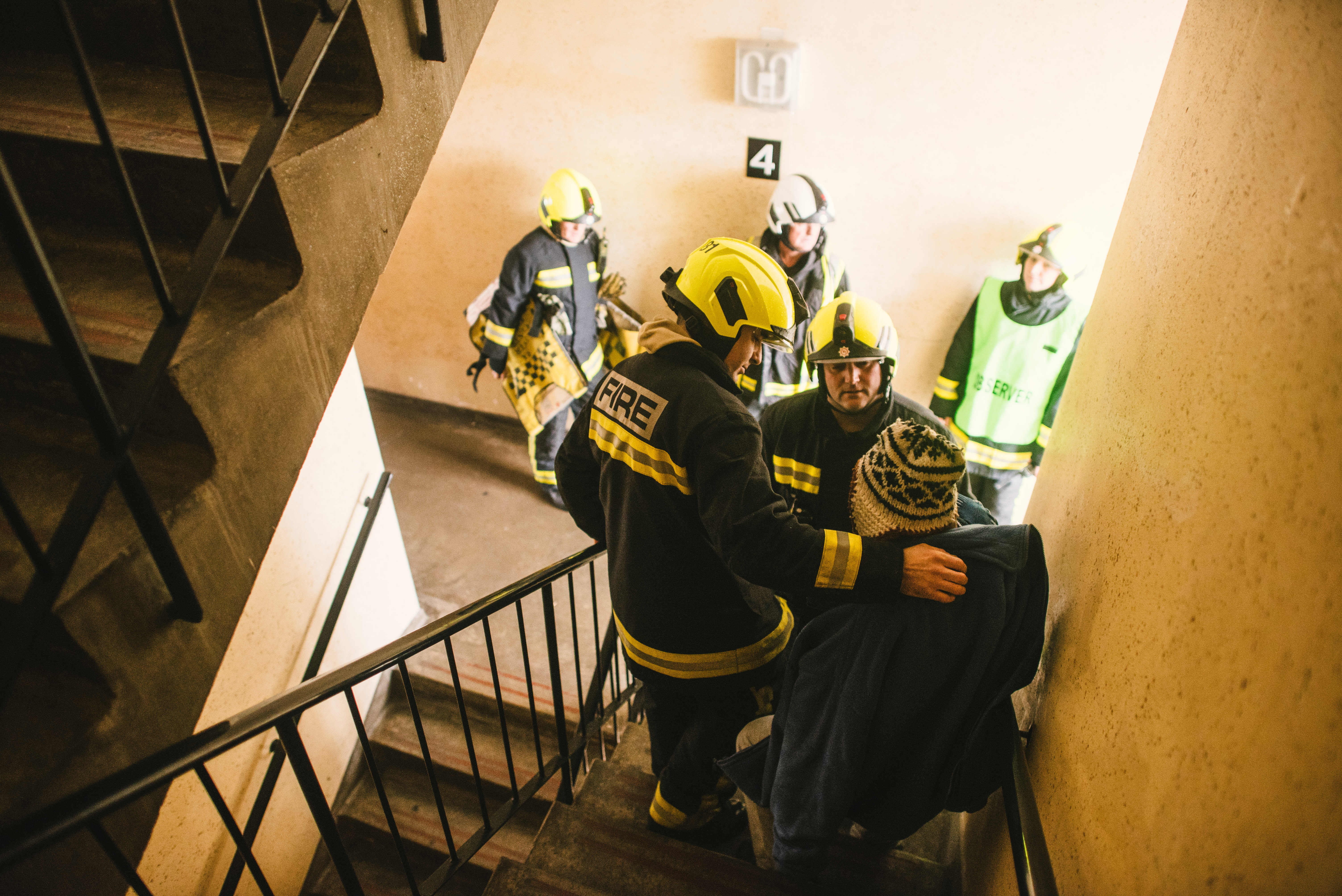 Who we're looking for
You don't need to have any previous experience firefighting or be a weightlifting champion. Just the passion to protect and help your community, with a good level of fitness.
We'll ignite your spark of interest and train you to become a fully-fledged firefighter.
Essential criteria
You must:
live or work no more than five minutes from your nearest station
be at least 18-years-old at the start of employment, but you can apply before then. There is no maximum age limit for applications
have no unspent criminal convictions at the time you start employment. Unspent criminal convictions at the time of application can be discussed at the first contact meeting
have the right to work in the UK
be able to drive at the start of employment. You can apply before you have a licence
have good eyesight so you can carry out your role safely. If you're unsure that you meet the visual standards, you can book an appointment with your optician, using this visual standards checklist. As part of the application process, you'll do a LogMAR test which assesses visual performance in low contrast conditions
have a good level of strength and fitness. Find out more about the fitness requirements
have a good grasp of maths and English. You do not need any formal qualifications to apply but you will be tested on this during the application process. 
The application process
Getting started might feel a bit daunting, but we'll be with you every step of the way.
There are many stages to becoming a firefighter, and how quickly you complete them is up-to-you. Every recruit is an individual, which means every journey is totally unique.
Terms of work
Probation
The legal probation period is 6 months, but the time it takes to become a fully competent firefighter can vary from station to station and is also dependent on ability. Typically it can take up to two years to become a competent firefighter.
Salary and working pattern
Call-outs vary across stations. Some stations respond to over 800 a year, others less than 50.
On average, on-call firefighters are paged two-three times a week for a couple of hours at a time, during the day, evenings and weekends. 
Most of our on-call firefighters are now on 'Pay for Availability'. Until this is rolled out across the whole Service, the way you are paid and your contracted hours will depend on the station you join.
Read more about on-call firefighter pay
Training and development
Each station has a drill night on a specified evening each week which lasts for approximately two hours. You will attend your station on their drill night for induction training. This will give you the opportunity to get to know the crew and procedures.
Following your induction, you will attend firefighting training either at Severn Park Fire and Rescue Training Centre in Avonmouth, Bristol, or the Academy Training Centre in Plympton. Training starts with your initial core skills course. After your skills course, you'll be able to ride in appliances, shadowing the team only. You'll then complete the following training courses:
Breathing Apparatus (BA) Week 1 (five days)
Breathing Apparatus Week 2 (five days)
Road traffic collisions (three days)
Once you have successfully completed these courses, you'll be debriefed by your local manager and move to the development phase. You'll be given your pager and able to respond to incidents in a limited capacity. Find out more about our training courses.
You'll be expected to take part in regular training so that you can safely and efficiently carry out all your work and operate equipment, and you'll be paid for attendance at any training courses.
There are plenty of opportunities to progress in the Service. Many of our firefighters choose to serve the community throughout their time in the Service, which is great. But there are many opportunities for promotion once you're fully skilled, with different roles and ranks right up to Chief Fire Officer.
Take a look at our stories of how our staff have moved up the ranks or tried their hand at different roles in the Service.
Benefits of on-call firefighters to businesses
You might be surprised to know that on-call firefighters make up 90% of emergency cover in the UK. They're an invaluable part of society.
Whether you're an employer looking for more information on how it all works, or you're an employee who needs help explaining the benefits to your workplace, we're here to help.
FAQs
There is no minimum height requirement to become a firefighter.
There is no restriction on your home location to become a wholetime firefighter, but on-call recruits must live a maximum of five minutes from their nearest station.
Yes! Although being a firefighter requires a good standard of fitness and practical ability, we'll consider everyone on an individual basis and support you to reach your full potential.
We are a Disability Confident Employer. We are fully committed to:
Ensuring our recruitment process is inclusive, fair and accessible,
Communicating and promoting our vacancies,
Anticipating and providing reasonable adjustments, as required.
At the application stage, we will ask you to disclose if you have a disability and outline any special requirements you would like to request during the process. Reasonable adjustments will be considered.
The Service is unable to assess your individual health until the medical stage and therefore would not be in a position to confirm your suitability until this point.
Find out more about how we support people with disabilities.
Absolutely! All the skills you learn as a fire cadet will give you a flavour of being a firefighter, as well as lots of essential skills like teamwork and leadership.
Becoming a firefighter is a very desirable job, and we normally receive a high number of applications for wholetime positions. But it could be you, so don't let this put you off from applying!
You may feel worried about your safety in the Service, which is completely understandable. We care deeply about the safety of our firefighters and will not put them at unnecessary risk. We work incredibly hard to make sure everyone has the knowledge and expertise to keep themselves and others safe.
Firefighters must make sure their facial hair is maintained so that it doesn't get in the way of any PPE.
Tattoos are acceptable provided they could not be deemed as offensive. Bear in mind that what is and is not offensive can be subjective. During the selection process and if you are subsequently employed by us, you will be asked to ensure the tattoo is covered if it is deemed offensive or gives an image contrary to the Service values. Tattoos are unacceptable if they are rude, crude, racist, sexist, sectarian, homophobic or violent.
Piercings will not affect your suitability for the role, as long as you are prepared to remove them before commencing operational duty for health and safety reasons. The use of tongue studs is prohibited due their potential to break, become dislodged and become a catch hazard in the windpipe or gullet.
Asthma does not necessarily prevent you from becoming a firefighter, however, firefighters are exposed to smoke and other toxicants as part of their job, which are irritating to the lungs and upper respiratory tract and can exacerbate the symptoms of wheezing in firefighters with asthma. Your condition will be assessed at the medical stage, after which a decision will be made as to your suitability for the role.
We do not currently accept transfer requests from other Services. If you are currently an on-call firefighter for another Service and would like to work for us, you will need to apply through this process.