How fire safe is your heater? Different types and top tips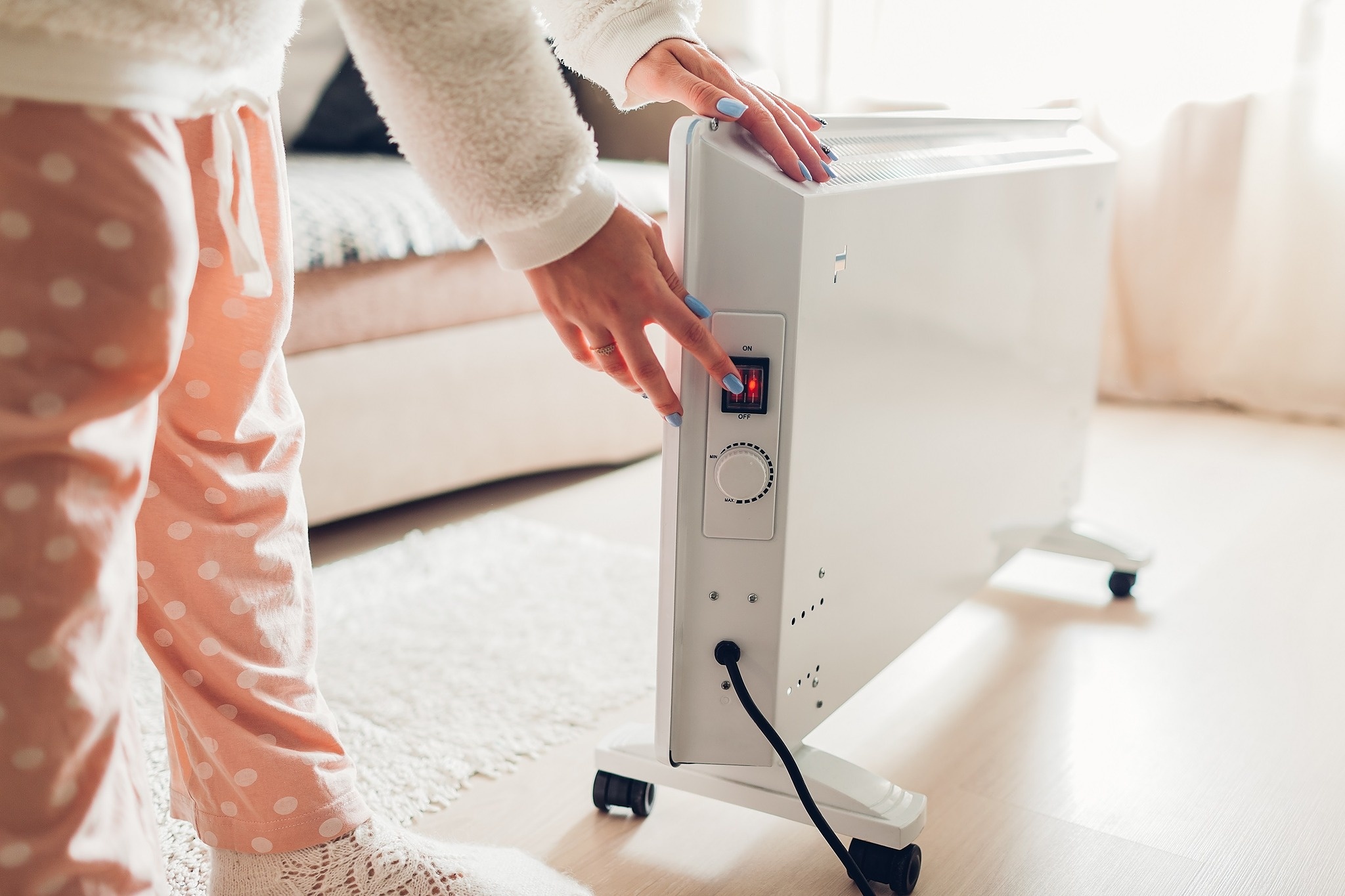 The colder months have arrived, which means it's your heater's time to shine. With energy prices a topical (and sore) point at the moment, and many people working from home more regularly, you may find that a portable heater is a more efficient and cost effective way to keep you warm. 
Portable heaters are a good way to heat small spaces when you don't need to heat the whole house. But what do we need to consider about portable heaters and fire safety? Heaters can be a serious fire hazard, especially when not used carefully.
We've listed our top dos and don'ts when using heaters, as well as some advice specific to different types of electric and gas heaters, so that you can avoid not only feeling chilly, but a serious incident too. 
Keep fire safe with portable heaters
You should always:
use your heater on a flat surface
give it some space - keep it at least one metre away from anything flammable
buy heaters brand new from a trustworthy retailer, and if possible, buy one with a trip switch (this means it will switch off if knocked over)
register the heater when you purchase it, so you'll be made aware of any product recalls or safety information that might get released down the line.
You should never:
use any heaters that are faulty, or have broken or damaged wiring
use your heater to dry your washing
cover your heater (like we said, it needs some space).
The fire risk of emollients
Emollients are used to treat various skin conditions, and are extremely flammable. Therefore, when they're absorbed into clothing and fabrics, they make the clothing and fabric much more likely to catch fire. This is another reason why heaters must be placed away from people, fabrics and furniture. Read more about emollients.
Different types of portable heaters
Regardless of your type of heater, the general rules above will always apply. Let's look at a few different types as well though, so you can make the best and safest choice.
Halogen heaters
Halogen heaters work by heating the small area directly around them, rather than the air itself. This means that they're really effective at warming a small space, but maybe not so much a large room.
The fire risk of halogen heaters
As halogen heaters have intense directional power, where they're placed is especially important. Put them too close to a flammable item, or a person, and there's a big risk of incident or injury. Make sure you keep these heaters well away from any potential hazards, whether that be furniture or people.
Fan heaters
Let's quickly talk about what goes on inside of a fan heater. A metal coil is warmed up, and then the fan blows air over the metal coil, which then drives the heat out and into the room. They're really easy to move around (only move when they're off and cold though) and provide instant heat, but as with the halogen heater, they aren't the best at warming larger spaces.
The fire risk of fan heaters
Hot air is being pushed out into a small contained area, which could be seriously dangerous. Our advice for fan heaters is to keep them well away from any other items. It's very easy for things in your home to catch fire if placed too close to a fan heater.
Also, try to keep children and animals away from fan heaters. It's possible that they could drop or poke something through the vents and onto the metal coil, which may start a fire, and puts them in danger if they're too close.
Oil filled radiators
Oil filled radiators are portable electric heaters, but they look like your typical radiator that's permanently in your home. Inside the heater, an oil gets heated up and then pushed around the radiator's 'fins'. As the 'fins' get hotter, the surface temperature does too, and heat is then released out into the air.
The fire risk of oil filled radiators 
Oil filled radiators don't have any exposed heating elements, so they're relatively low risk in terms of igniting any items nearby. They take a little while to warm up, but they give out heat after they're switched off, which can help you save money on electricity. The only thing you might want to watch out for is children touching the radiators whilst they're still hot. 
Portable gas heaters
These heaters can be moved anywhere, and they heat the room they're in quickly. They do however require you to change the gas cylinders, which could be a hassle and also poses fire risks.
Using gas heaters also carries the risk of carbon monoxide poisoning, so you should have a carbon monoxide alarm in the same room. 
The fire risk of portable gas heaters
There is a lot of risk with using gas heaters. If you are using one, make sure that you store the spare gas cylinders safely. The cylinders must live somewhere outside of the home, well away from direct sunlight or any frost. 
Portable gas heaters are also a big risk if anything is placed too closely to them. So again, give them some space. You can read more of our advice on gas heaters here.
To summarise, oil filled radiators have the least fire risks, and portable gas heaters have the most. But whichever heater you use, you must be wary of the dangers and always follow our advice to use them safely.
We hope this information helps you to make an informed choice around which heater to invest in, or teaches you to use your existing heaters in a safer way.