Ros' story
"It's not a surprise to see female firefighters anymore"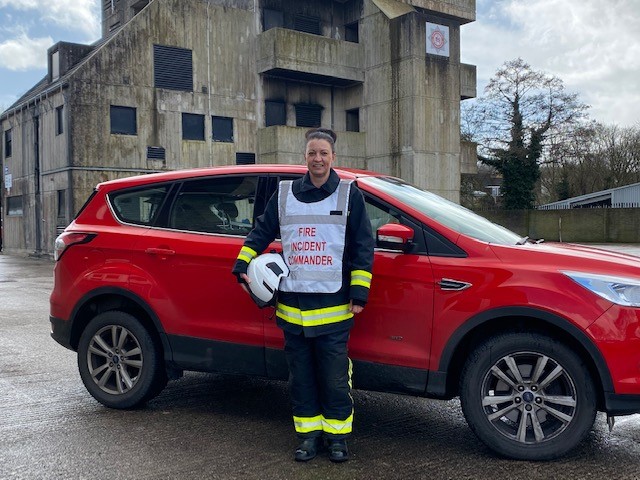 "The variety of different roles you can undertake while working at the fire service has helped me develop and progress in my career while looking after my two sons.
I've had the opportunity to do a lot of different roles, some people may not know all the different specialisms you can go into.
The station rota system suits some people and not others. As you progress in your career, you can choose to move into a different role. Raising two boys, it suited me to be home in the evenings and weekends, and I've been able to enjoy them growing up.
Starting as a firefighter, I have worked in business safety, partnerships and community safety, operational response, Fire Control, staff officer for the chief fire officer and for the last four or five years have managed several fire stations in Plymouth.
I'm grateful for the variety of roles the Service has offered me, I love going out on 999 calls and I've had some wonderful experiences and opportunities to learn different skills.
I had been running my own business for 10 years when I applied to join the fire service. I joined Green Watch at Camel's Head in 2001, and was the only woman on the watch at that time. Of 66 firefighters at the fire station, there was only one other female.
Of course, things have changed somewhat. Some people used to think it was a job for a man and you'd be carrying people around on your shoulders. We've come a long way and it's not a surprise to see female firefighters anymore. Everyone has got something to bring to the job - problem solving, communication, casualty care - and gravitate towards what they're good at, that's what makes a great team.
I love the job, visiting stations, I enjoy talking to people, I have a very supportive boss and work in a great team - there are not many parts of the job I don't enjoy. I am proud of my uniform, the conditions of service are fantastic, and if I need any help or support there's no better employer: a career, job security, it's the whole package."