Thatched properties
Thatch fires spread rapidly and they're extremely difficult to extinguish, so many homes are sadly destroyed.
Nearly a quarter of thatched property fires we attended over the last six years saw the whole building damaged.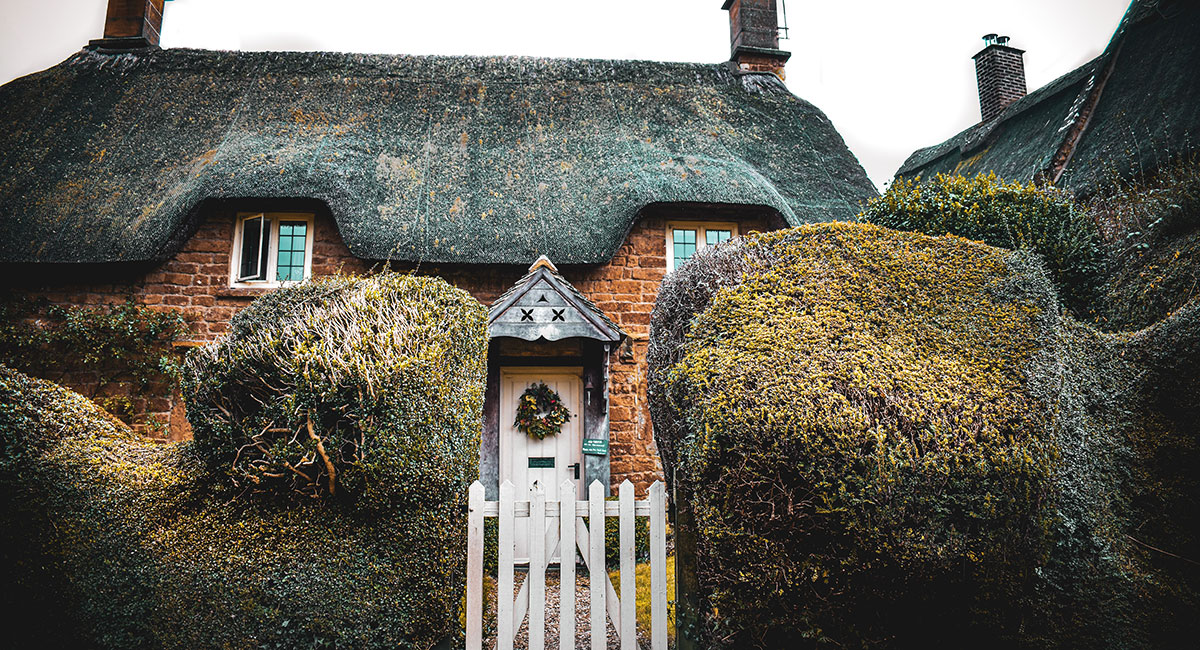 Thatched roof fires
Most thatched roof fires start in the chimney, but they can also be caused by badly installed electricity cables and embers from bonfires.
Chimney safety for your thatched home
There are safety precautions you can follow to reduce the risk of a fire if you have a chimney in your thatched home.
Use a stove pipe temperature gauge. This will help you use your stove at a safe and efficient temperature. Using your stove at high temperatures risks sparks catching the thatch; while using it at a low temperature can coat the chimney with soot and tar which can also lead to a chimney fire.
Add a chimney pot. Make sure the top of the chimney pots is at least 1.8 metres above the thatch.
Line your chimney. This stops fire gases and sparks from reaching the thatch.
Consider your fire type. Stoves are a popular choice, but they present a bigger risk of a fire in your thatched property than a traditional open fire. If you do have a stove, get it checked once a year by a Heating Equipment Testing and Approval Scheme (HETAS) engineer. A research project funded by Historic England explains the relationship between stoves and thatch fires, which you can read about on the Historic England website.
Have your chimney swept regularly by a qualified chimney sweep. A chimney in regular use should be swept at least once a year. The frequency will depend on what you are burning. Take a look at our advice on how often you should sweep your chimney and how to find a certified chimney sweep.
Other ways to reduce the risk of fire in your thatched home
Only burn well-seasoned wood. This means that it has been left to dry out for a long time and all the moisture has evaporated. Burning wet wood can cause water vapour to combine with other gases and particles. Unless the chimney is kept warm, this can create condensation, which then makes a substance that hardens to form tar. This is extremely flammable and can lead to chimney fires.
Make sure that you have working smoke alarms in your home. We also recommend installing an interlinked smoke alarm if you have loft space. For more information, take a look at our advice on smoke alarms.
Make sure you have the safety equipment advised by your insurers in your home (for example fire extinguishers, fire blankets etc).
 
Don't have bonfires or use fireworks and sky lanterns nearby. It is a good idea to chat about this with your neighbours too.
Don't allow contractors to use blowtorches or heat guns when carrying out work on your home.
Cover lights in the ceiling below your loft with intumescent hoods. These are fire-resistant covers for light fittings and downlights.
Make an escape plan in the event of a fire. See our advice on escape plans.
Fit an outside tap and a hose that will reach around the building.
Book a free home safety visit
If you have a thatched home in Devon or Somerset, you're eligible for a free home safety visit.
We'll give you a free magnetic stovepipe thermometer (while stocks last), so you can make sure your stove doesn't overheat. 
Things to look out for
There are a few signs that suggest you could have a problem with your thatch or chimney:
stained plaster or wallpaper around your chimney
dark deposits in the loft or on the chimney
soot on cobwebs
crumbling of the chimney's lining
scorching to wooden lintels.
 
Carrying out thatch renovation or re-roofing
The Dorset model thatching methods can be applied if you're planning a major renovation or re-roofing your home.
This includes:
a fireproof barrier between the roof timbers and the thatch layer
The thatch would then be 'sacrificial' in the event of fire, with the fireproof barrier preventing the fire from getting into the structure of your home.
installation of a vapour check barrier between the ceiling and the loft space
You can get more advice by speaking to the local authority Building Control or the National Society of Master Thatchers.
 
Specialist thatch websites
For more information on protecting your thatched property, we recommend the following websites:
Spark arrestors
We don't recommend spark arrestors for chimneys. If you have them, make sure they are cleaned every three months by a professional chimney sweep.