Home safety visits
A home safety visit is a free service we offer to people who live in Devon and Somerset.
We will come and visit your home at a convenient time to see what we can do together to make you safer.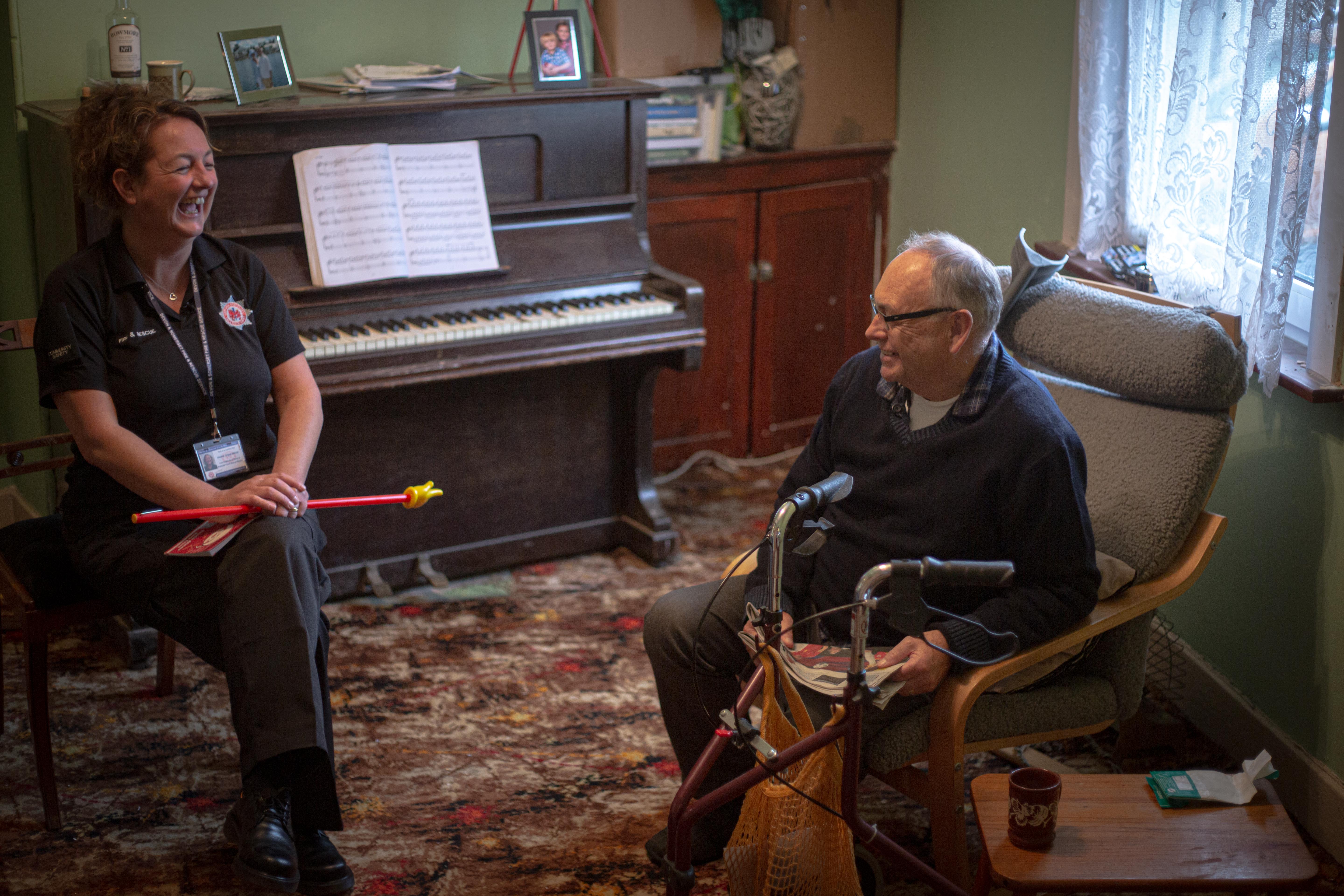 During a visit
We will arrange for one of our friendly Home Safety Technicians to visit you and have a conversation about fire safety in your home. 
The visit usually takes around 45 minutes and covers:
checking smoke alarms are set up correctly
making a fire escape plan
using electricity safely
cooking safely
keeping children safe from fire
identifying and discussing any further support, including fitting specialist fire safety equipment where required.
Who they're for
Any household with children under the age of 18.
Anyone aged over 65.
Anyone with a disability, mobility issues or sensory loss.
Anyone who smokes and lives alone.
Anyone with a thatched property.
Many vulnerable people.
We offer free home safety visits to many other people - if you are not sure if you are eligible, please get in touch - call 0800 05 02 999 or email firekills@dsfire.gov.uk 
Time slots available
We carry out home safety visits from Monday to Friday, between the hours of 9am to 5pm.
You will be offered a morning slot (a visit between 9.30am and 1pm) or an afternoon slot (a visit between 1pm and 5pm).
We try not to offer specific times, so that our technicians are able to plan their day in the most time effective way. This can be discussed further when you book a visit.
All face-to-face home safety visits are conducted by a qualified home safety technician who will be wearing the appropriate level of PPE and adhering to social distancing guidelines. If a person does not feel comfortable with a face to face visit being conducted at this time, we can provide home safety engagement and advice over the telephone.
To keep people safer in their homes, our operational staff are also conducting doorstep engagement in targeted areas: for example in a neighbourhood where there has been a recent incident. All these members of staff will be carrying identification.
We also have crews who are currently making phone calls to people who have received home safety engagement in the past, to ensure they still have adequate working smoke detection. All of these people will receive a letter in advance of these telephone calls. If you have had a phone call and you want to check it is legitimate, please call our home safety team on 0800 05 02 999.
If you are concerned about your own home fire safety or have concerns about a family, friend or neighbour please call our home safety team on 0800 05 02 999. You can also book or refer someone using our online referral form.
What to expect
Our video shows you what to expect on a typical home safety visit. 
Why have a home safety visit?
It's clear to say, we know a lot about fire safety. Many fires in the home are preventable. We will work with you to protect you in your home. Speak to one of our friendly team; it's free, it takes 45 minutes - and it could save your life.
Verifying it's us
If you have any concerns about the identity of someone visiting you, then please give us a call on 0800 05 02 999 and we'll be happy to help.
Book a home safety visit now
To request a free home safety visit, please call 0800 05 02 999 or complete our online referral form. The form takes just three minutes to complete.