Fire doors
Fire doors are a legal requirement that can be installed for around £90. A well-fitted and functioning fire door will delay the spread of fire and smoke, saving lives and property.
Here you'll find more information, such as where fire doors are needed, what makes a fire door different to other doors, and how to look after them to ensure that people and premises are kept safe.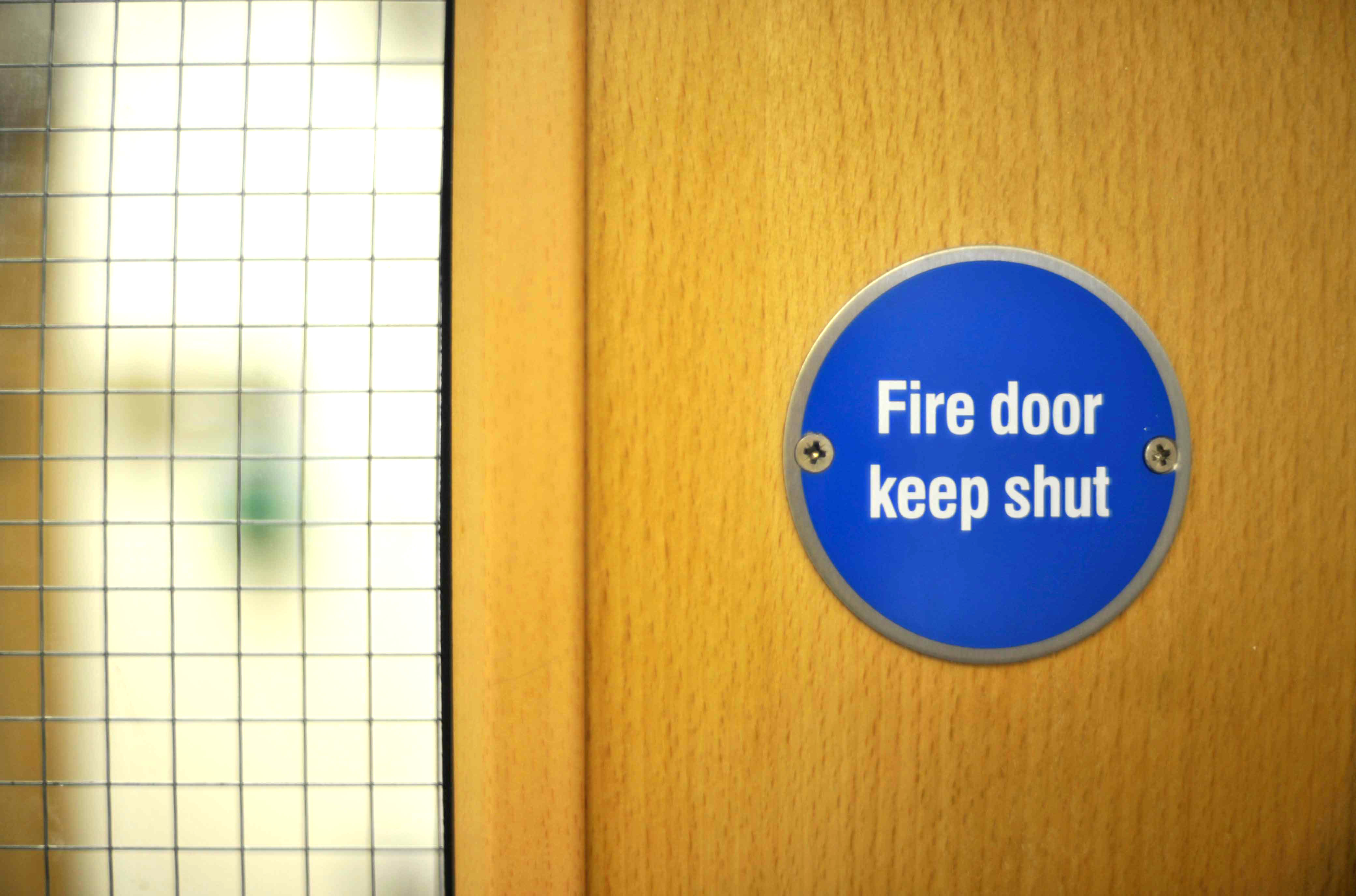 Places where fire doors are necessary
Whilst every premises is different, there are many situations where you would expect to find fire doors fitted.
In corridors and staircases which serve as escape routes. This may include the fire exit doors which open onto outside staircases.
As the doorways in fire-resisting walls. These walls are required to keep rooms separated so that if a fire starts in one, it can't spread to another.
In the communal areas of flats - this will include flat entrance doors.
In a place to separate basements from other floors.
Fire safety law requires the person responsible for the premises to carry out a fire risk assessment and to have appropriate fire safety measures.
The difference between fire doors and normal doors
Fire doors are not like ordinary doors. They are designed to withstand fire for a specified period of time. The most common provide 30 minutes of fire resistance.
The door should be properly made by a British Woodworking Federation (BWF) certified manufacturer, with compatible parts, and certified by an accredited third party.
The components involved such as self-closing devices, hinges, handles, glazing and seals are just as important as the door itself.
All are specified to ensure the door can hold back smoke and fire for the time required.
If a fire door doesn't have these vital components or there has been an incorrect installation, it could fail in less than 5 minutes.
A door that is required to be fire-resisting must not be replaced by an ordinary door.
Providing they are still in good condition and fit well within their frames, they will still prevent fire from spreading.
Modern doors are equipped with what are called intumescent strips and cold smoke seals. Older doors may not have these fitted but are instead provided with a rebate all around the door frame (which just means there aren't any gaps).
Where older doors are in poor condition or removed, they should be replaced with a modern-style fire door.
Maintaining fire doors
There is a legal requirement to maintain and manage fire doors. The law says property owners must ensure their buildings meet fire safety standards through suitable checks and maintenance (The Regulatory Reform (Fire Safety) Order 2005).
The more the doors are in use, the more frequently you will need to check them. Anyone can spot a faulty fire door. Get started today by following the Fire Door Safety Week's five-step fire door check (external website opens in new tab).
Fire doors are often abused, neglected and seen as less vital than they actually are. Here's how you can make sure you're looking after yours.
check the doors regularly to make sure they are closing properly and fit well within their frames
replace the doors seals when defective
train your staff on the importance of fire doors, and tell them not to prop them open
put in place clear procedures for reporting defects
get a qualified person to install fire doors and carry out any maintenance.
leave them propped open
damage them, or make sure any damage gets repaired
remove or disconnect the fire door's self-closing device
cut the door to retrofit glazing or air vents (unless done by a door specialist).
Installing a fire door correctly is as important as ensuring the door itself is made to the correct standard. A third-party accredited fire door installer should be used. There are various third-party accredited schemes, which allow you to view their registers and locate a suitably qualified trades person.
What happens when you don't maintain fire doors
Death or serious injury may result when a fire door fails to hold back fire or smoke long enough to allow people to escape.
In terms of premises, fire doors can be the difference between losing either a room to fire damage or the whole building. Over half of all businesses never recover from a fire. Of those that do, half go bankrupt within three years.
Failure to adequately maintain fire doors is one of the most common issues identified during fire safety inspections. Those that do not put in place and maintain fire safety measures can face prosecution leading to a fine, imprisonment or both.