Top fire safety tips for students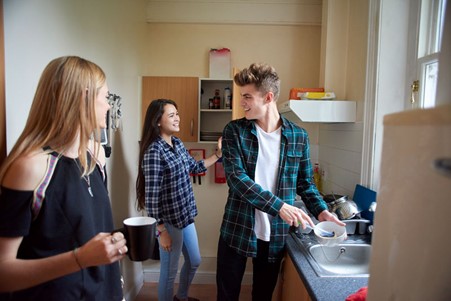 Someone living in rented or shared accommodation is seven times more likely to have a fire.
With many young people leaving home for the first time to go to university and rent in student halls or a shared home, we want you to know how to keep you and your housemates fire safe. 
Please read our top five fire safety advice for students.
1. Living away from home
All universities and colleges have a person responsible for fire safety in buildings owned by them. This is the person to speak to if you spot a fire risk (such as a wedged open fire door, blocked escape routes or dodgy electrics).

Check what the fire safety rules are in your accommodation – such as any ban on candles, and be aware of the evacuation policy for your place.
Pay attention to fire drills and never ignore alarms.
Test your smoke alarms regularly and replace the batteries straight away if there is a low battery warning. Never cover them. If your smoke alarm is beeping and you can't solve the problem, notify your landlord.
Read our moving in checklist so you can be sure that your landlord or housing provider is doing their bit to protect you and your housemates in the event of a fire. 
2. Cooking safely
Always keep an eye on your cooking, distractions are a common cause of fire.
Don't leave cooking unattended and turn off appliances when you're finished with them. Never leave cooking on when you are out of the house.
Take extra care when frying with oil as oil can catch fire easily.
Don't cook if you have been drinking alcohol especially late at night.
3. Candles and smoking
Keep candles away from flammable surfaces or textiles such as curtains, TV sets or bath tubs and never leave them unattended. If you do use candles ensure you use a proper holder.
Avoid burning candles or incense inside the house as they are a risk of fire. To make your new room cosy use battery-powered candles and reed defuses as a safer alternative. If you must use candles, make sure they're in a heat-proof holder and keep them well away from anything that could catch fire (such as curtains, bookshelves).
If you smoke you are at a higher risk of having a fire in the home. Smoking is the biggest cause of fatal fires. The best way to protect yourself and others from the dangers of smoking at home is to smoke outside.
Read our fire safety advice for people who smoke, vape, or use e-cigarettes. 
4. Electricals and heating
Don't overload plug sockets and remember to switch off electrical equipment such as hair straighteners, blow dryers and mobile phone chargers when not in use.
Secure portable heaters up against a wall so that they don't fall over. Keep them away from curtains and furnishings and never dry clothes on them.
Electrical devices, cables and plug sockets can be a source of fire. If your charging cable is cracked, severely twisted or has exposed wires, don't use it, it could cause a fire. Buy a replacement from a well-known manufacturer.
Always charge your phone or laptop on a hard surface like a table or worktop – never on a soft surface like a bed or carpet as it can easily overheat and catch fire. Turn off electrical chargers, devices or appliances before bed or when leaving the house.
5. Know your escape routes
Moving into a new home, know your escape route. Make sure you know the quickest way out of your property in the event of a fire and consider an alternative route in case your usual route is blocked. Keep your escape routes clear of clutter.

Make sure everyone in the house knows where window and door keys are kept.

If a fire starts, get out, stay out and call 999.