How to stay safe during Halloween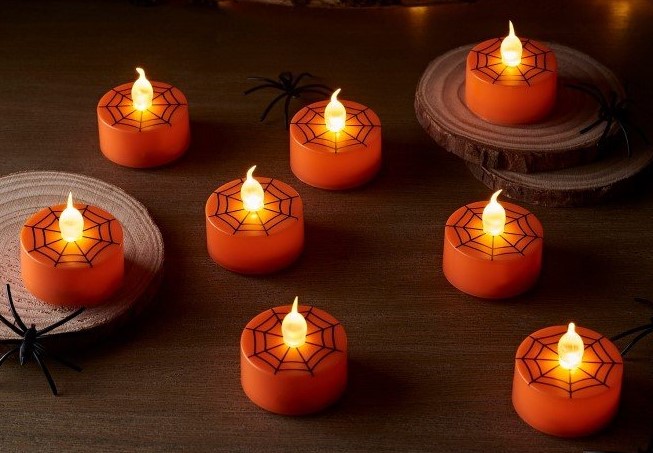 While Halloween is meant to be all about scares, there are some horrors that we know you'll want to avoid, and we're here to help with that. Follow our simple steps to make sure that your festivities are filled with treats, not tricks.
Three top tips for a safer Halloween
1. Switch to battery-powered tea lights
Picture this: you've carved your pumpkin to perfection, lit a candle, put it inside, and left your creation on display. Then you, your child, or a pet accidentally knocks over the pumpkin, which also knocks over the flame inside, and sets your curtains or furniture alight. Quite a scary scene, isn't it?
Maybe you're reading this scenario and thinking it doesn't seem likely, but incidents like these are more common than you might think. Around one in eight of the dwelling fires we attend are started by naked flames (such as matches or candles).
"Fires that start with naked flames such as candles, matches and cigarettes are really dangerous because they spread and develop very fast. Nearly half the fatal fires in the south west involved naked flames."
-    Ros Clarke, Group Manager for Fire Prevention
When you use battery-powered tea lights instead, an accident is just an accident, instead of an incident. If you knock over a pumpkin or leave it on overnight, nobody gets hurt and nothing gets damaged. It's a stress-free option, and we highly recommend it.
"It's such a simple thing, but by using battery-powered tea lights for your Halloween decorations, you are reducing your risk of fire this year, and in the future too."
2. Remember the fire risks of fancy dress
Whether you're being a vampire, a witch or a zombie, fire won't be scared of you. Fancy dress costumes are highly flammable, so it's important you're being cautious whilst all dressed up.
When wearing costumes, stay away from open fires, wood burners and cooking. And please take off those spookily long sleeves before you go to make dinner.
Watch our video to see how quickly flames can spread through fancy dress.
[Spooky music playing while a costume burns]
Why Halloween costumes are scarier than you think.
Unlike everyday clothing, Halloween costumes can be highly flammable. They can catch alight in seconds from something as simple as a tea light.
Remember - if your clothes catch fire you should STOP, DROP and ROLL.
Here's our advice for a safe Halloween:
Stay away from naked flames
Wear layers underneath your costume such as woollen tights or jeans.
Have a safe and happy Halloween.
3. Be seen while walking around
Around Halloween, there are many incidents involving pedestrians being hit by vehicles.
If you are trick or treating, make sure that drivers can see you. It'll be dark outside, and your scary costume may make you harder to spot, so you must be extra careful.
When you cross the road, always do so from a safe location (not between parked cars or on a bend), look both ways, and walk instead of running. You don't want to give any drivers a fright by appearing out of nowhere in front of them.
Stop, drop and roll
Wear some woollen tights, jeans or a woollen jumper as layers underneath your fancy dress. This will act as a layer of protection for your skin in case your costume catches fire.
And if the worst does happen and your clothes catch fire, remember to stop, drop to the floor, and roll around to flatten the flames to put them out. 
Here's how to stop, drop and roll.
Stop, drop and roll
[Background noise of a fire engine siren as the doors of a fire station open]
Alex: Hi, my name is Alex.
I'm a firefighter here at Crownhill Fire Station on Blue Watch.
As we haven't been able to come out and do school visits this year, we thought we'd deliver this short video on what to do if your clothes were to catch fire.
The three things we need you to do are:
To STOP whatever you are doing
DROP to the floor and cover your face
ROLL three times each way until the flames are extinguished.
I will demonstrate this now.
[Alex lies on the ground and covers his face. He then rolls over and over sideways like a log to one side before rolling back the other way.]
Alex: Thank you for watching.