Medium Rescue Pump (MRP)
Here you'll find out everything you need to know about a Medium Rescue Pump (MRP). Learn what this fire engine does, what it looks like, the equipment carried inside, how big it is and how high its ladders reach.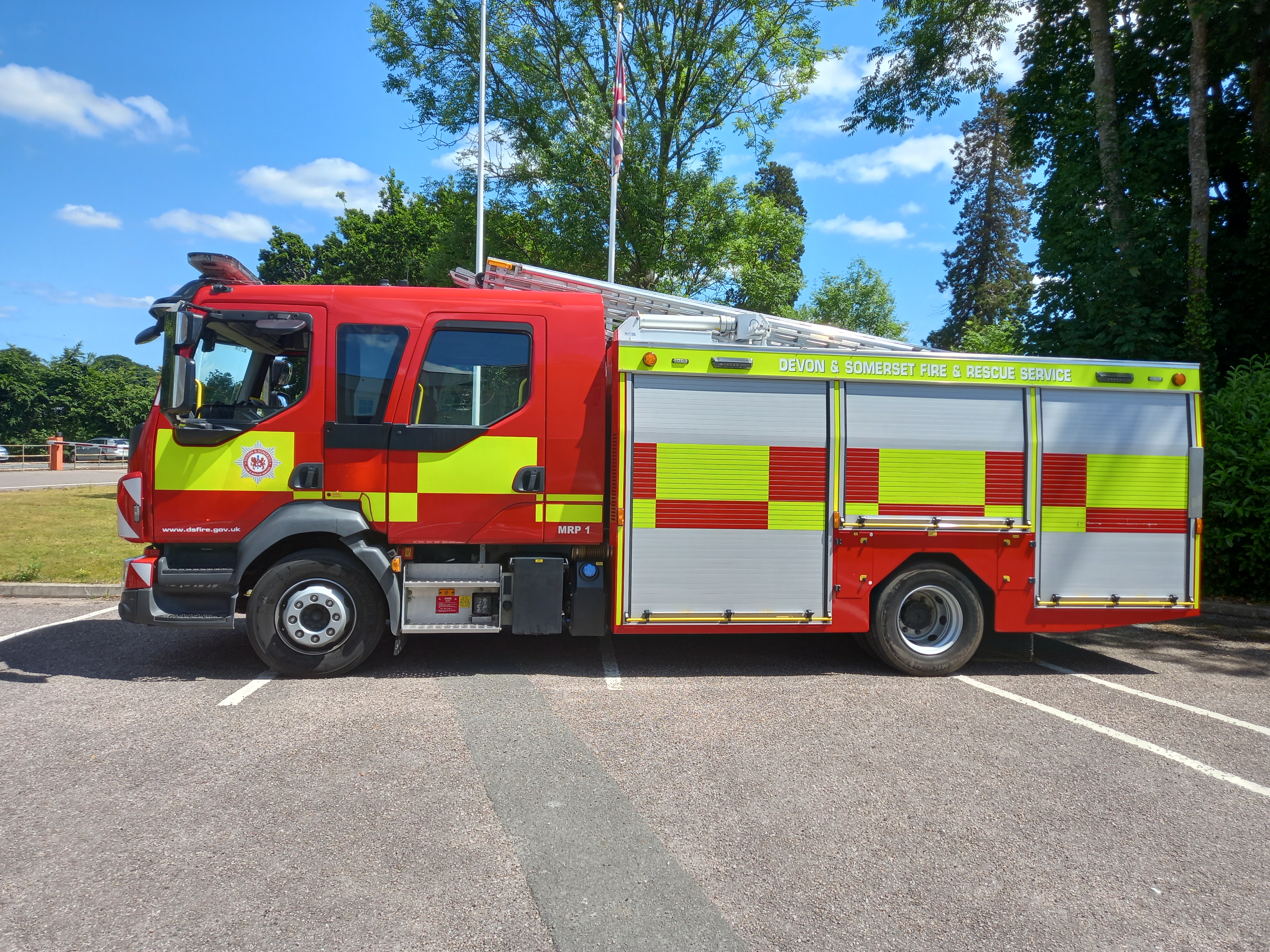 What an MRP is
An MRP is a full-size fire appliance, sometimes called a 'pump' or Type B appliance. It's used to carry out a full range of firefighting duties. You'd find an MRP:
attending incidents
extinguishing all types of fire
rescuing people from buildings
pumping floodwater
rescuing at Road Traffic Collisions (RTCs) 
at Special Service rescues.
1 of 5
2 of 5
3 of 5
4 of 5
5 of 5
Where it's used
There are currently around 54 MRPs across the Service in use, including ones used as training vehicles and reserves. This does not include 4x4 (off-road capability) variants.
How it's maintained
All vehicles and their equipment are maintained by the Fleet Maintenance team, who are based at one of four workshops throughout the two counties. 
The only exceptions to this are the vehicle's communications systems (radio or mobile data links). These are maintained by the Communications department, which is based at Service Headquarters.
 
People who crew the vehicle
This vehicle is crewed by five firefighters. It can be mobilised with at least four crew on board.
Equipment on the vehicle
Each appliance carries a variety of tools and equipment to deal with the emergencies they face. The MRP's equipment includes:
breathing apparatus 
water and foam capabilities, including the main pump and Light Portable Pump (LPP)
multi-gas monitoring equipment
a Thermal Imaging Camera (TIC)
rescue or working from height equipment
ladders (up to 13.5 meters long)
water rescue equipment
hydraulic rescue equipment (used when attending RTCs).
The different types
Volvo/Saxon.
Dennis Dagger/JDC.
MAN/JDC.
Volvo/Emergency One.
Dimensions
Kerb - 13.6m.
Wall - 14.2m. 
Please note that the dimensions shown above are for a MAN 14.285 MRP. They will slightly differ between build dates and different chassis types.
Learn about the newest MRP (Volvo/Emergency One).