Car and vehicle fires
Each year we help around 650 people whose vehicle has caught fire. Fires are most likely to start when you're driving which can be a terrifying experience.
To reduce the chance of this happening to you check your car before you drive and keep up-to-date with your service and MOT.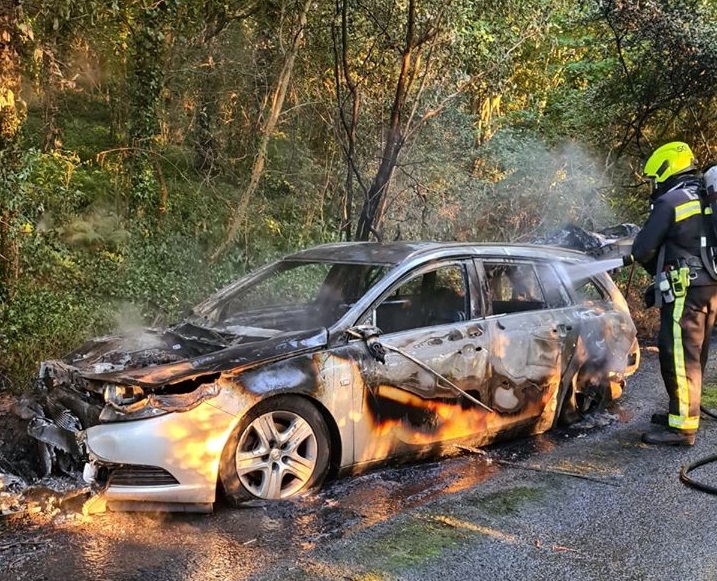 What to do if your car catches fire
We hope you never have to experience a car fire but here's what you should do if it happens:
stay calm and don't panic
put your hazard lights on
pull over as soon as possible. Try to choose somewhere safe
turn your wheels to prevent the car from rolling away, apply your handbrake and turn off the engine
release the bonnet using the control in the car. Do not touch the bonnet or lift it up
get everyone away from the vehicle and move to a safe area. If there is a barrier, stand behind it
make yourself as visible as possible. Use hi-vis clothing and wave your arms to warn oncoming traffic
dial 999 and ask for fire. Tell the person on the phone where you are and if your vehicle is a danger to others. Using the What3Words app can help us find your specific location.
How to prevent a car fire
Keeping up-to-date on your service and MOT will reduce the risk of your car catching fire. Most fires we attend could have been prevented with regular car maintenance.
You can reduce your risk of having a car fire by making some simple pre-journey checks. Your vehicle manual or a reputable car garage can recommend the little things to look for such as checking oil, tyres and coolant levels. Don't ignore warning lights – these are early indicators of a potential problem.
Leaving hand sanitiser in your car
Hand sanitiser left in your car is not likely to start a fire. There is more information about the fire risk of hand sanitisers on the National Fire Chief Council's website.