Proud day at the Remembrance Sunday Parade in London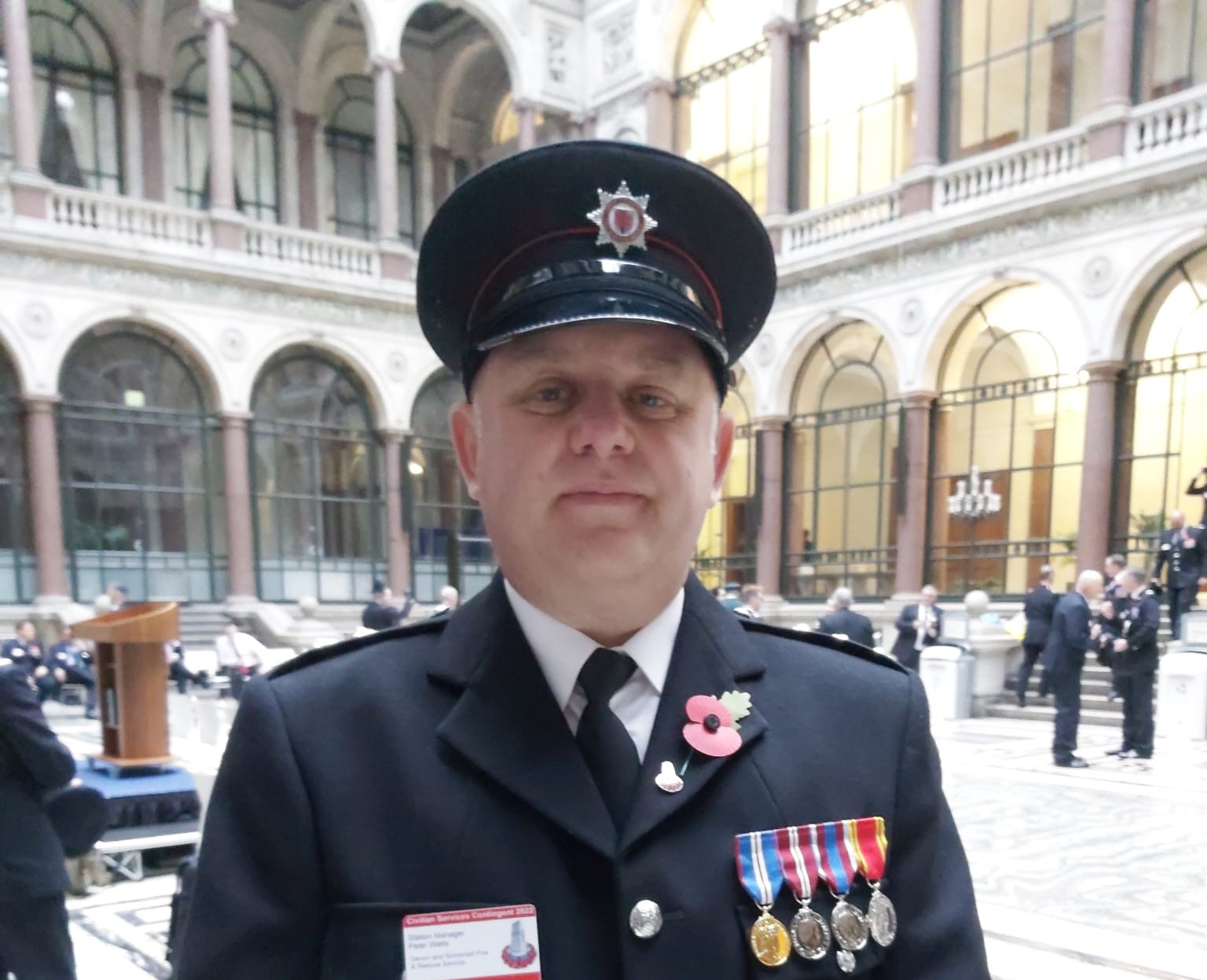 Every year, two of our uniformed colleagues attend the Remembrance Day parade in London. On Sunday 13 November Operational Resource Manager Pete Watts and firefighter Ben Woollaston represented our Service.
They were part of the Civilian Services Contingent which includes volunteers from the Police, Fire, Ambulance, and Prison Services, St John Ambulance the British Red Cross.
Pete explained: "The whole experience was amazing. From meeting colleagues from around the country to recalling how to march! My journey with the fire service started as an on-call firefighter at Modbury in 1992, following in my father's footsteps. I then became a wholetime firefighter in 2010 with Greenbank Blue Watch. I feel incredibly privileged to be in a job I enjoy every day.
"It was an incredibly proud moment when we marched into Whitehall to form part of the guard and to witness King Charles lay his poppy wreath in one of his first public engagements since becoming King."
Ben said: "I have been on-call since December 2019. When I joined, I balanced my time between on-call with the Service and full-time employment as a firefighter in the Royal Air Force based at RAF Benson, Oxfordshire. When I left in November 2020 to relocate back to Somerset permanently, I thought my marching days were over. So, when I was nominated to be one of two representatives for the Service, I felt very proud. 
"The build-up and being on parade was a slick and seamless process, from drill practice on Saturday afternoon to lining up at the gates leading to Whitehall. There were 60 fire service representatives from as far away as Northern Ireland and as close as Dorset and Wiltshire. "The emotion and pride of the occasion along with the cheering of the public have created a memory that will stay with me for the rest of my life. The military bands were fantastic. The music they played was loud but well-practiced and concise. 
"We were on parade for three hours, giving me time to take in the occasion. I thought of my grandfather as he was awarded an MBE by the Queen and would have taken great pride in seeing me there. He taught me how to march. It was a fantastic experience and one of my best days in uniform so far."
 
Ben Woollaston
Firefighter Ben Woollaston represented our Service in the Remembrance Day parade in London.