New life saving water safety equipment installed at Exeter Quay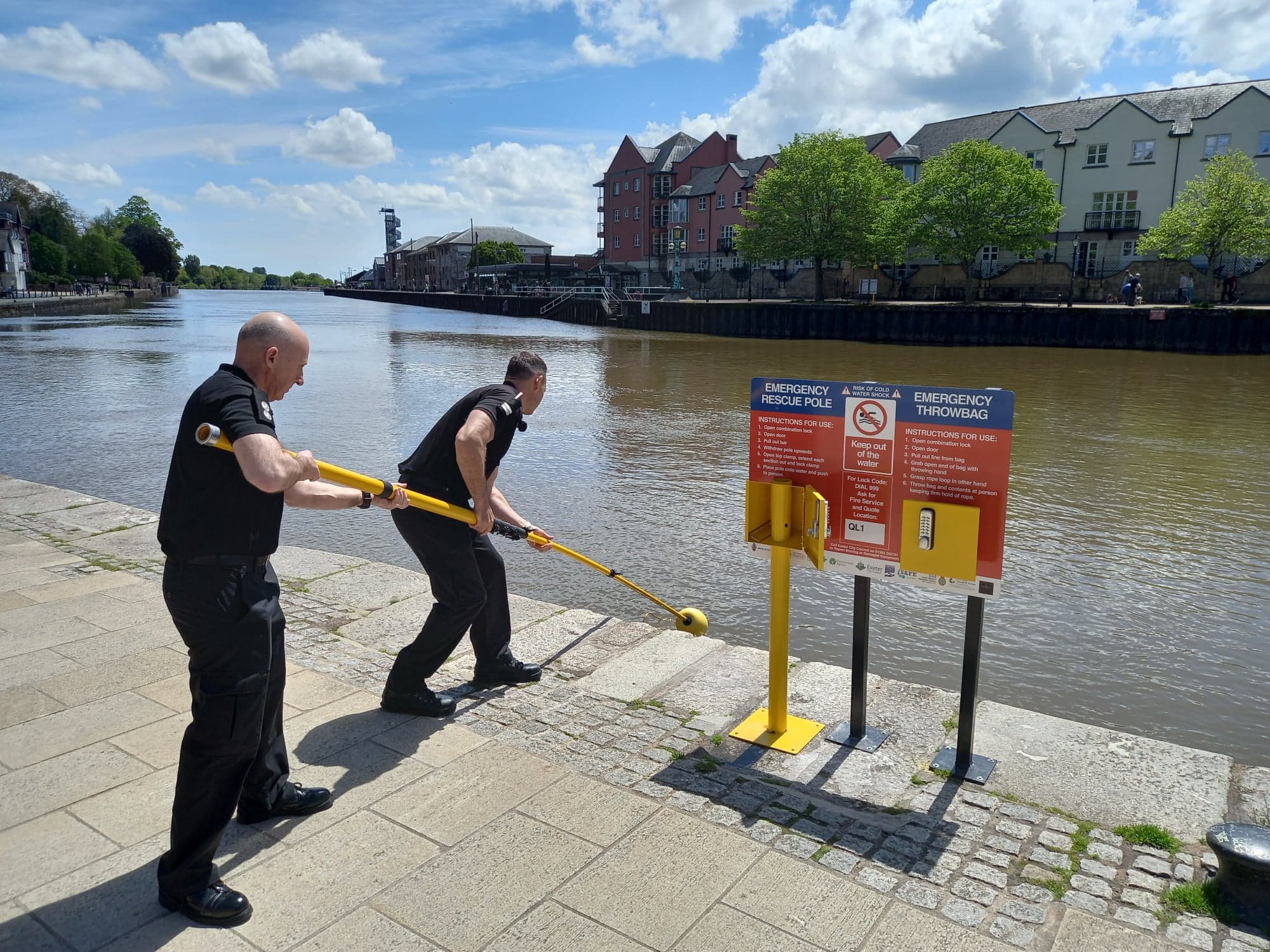 Six new potentially lifesaving throw line boards and reach poles have been installed at locations around Exeter Quay with the aim to reduce drownings around the area. 
Between 2015 and 2019, confirmed fatality statistics show that ten lives have been lost on Exeter's waterways. 
Nationally, around half of people who drown had no intention of being in water – they may have been walking, running, or jump in the water after their dog. There is also an increased likelihood after drinking alcohol. According to the latest national data, double the number of people drowned after they ended up in the water when running or walking (87 deaths in 2019) than those who drowned when swimming (44 deaths in 2019).
The new water rescue equipment – consisting of a telescopic reach pole and a 20m throw line - will provide a vital lifeline if someone ends up in the water. 
This is part of a project to increase public safety around the water at the Quay, started nearly four years ago. During this time, Devon and Somerset Fire and Rescue Service water safety experts delivered training to quayside traders in how to use a throw line (provided by the RNLI). This training will now be restarted. 
The new equipment has been funded and supported by a number of partners: the Exeter-based charity SAFE South West, which works to improve community safety, along with Devon and Somerset Fire and Rescue Service, Devon and Cornwall Police, Exeter City Council, Devon County Council (through Councillor Locality Budgets) Exeter Community Safety Partnership, Environment Agency, South Western Ambulance Service Trust, SWESC. There was also a donation of £500 from the Prospect Pub, along with public contributions from crowdfunding.
The throwline and reach pole are securely stored, and easily accessed by calling the number on the board (Devon and Somerset Fire and Rescue Service's control room), who operate 24 hours a day and will provide the code. 
Wayne Rawlins, Area Manager for Prevention at Devon and Somerset Fire and Rescue Service said:
"In Devon and Somerset we have one of the largest areas of water in the country along with one of the highest rates of drowning incidents, so innovative water safety campaigns in collaboration with our partners is crucial in keeping our communities safe. We are proud to be part of this truly collaborative project, to help provide equipment for anyone who gets into difficulty in the water around Exeter Quay. We have water rescue specialist firefighters who will respond to an incident, but every second is vital if we are to prevent people from drowning, so this equipment will provide immediate support for anyone who ends up in the water.
"We hope to roll out similar schemes in other areas with high water risk across Devon and Somerset."
Sergeant Andy Mulhern from Devon and Cornwall Police said: 
"At Devon and Cornwall Police, we are working with our partners to find ways of reducing the number of fatalities around water.
"These pieces of public rescue equipment are placed in strategic locations, for the public to access and use in an effort to secure a casualty, prior to the arrival of emergency services.
"The idea is that equipment negates the need for a member of the public to enter the water, placing themselves at risk and potentially adding to casualties in the water and the beauty of these pieces of public rescue equipment is that you are forced to alert the emergency services to access the kit, before using it.
"Water is cold, there are submerged objects, and the current is strong. Alcohol and water are a deadly combination, so avoid a route home near water after a night out. We hope they will save lives"